# 1 Our test winner pool for your perfect summer:
Intex Easy Set Pools 457x122 | 128168
Easy Set Pool, 457 x 122 cm, TÜV / GS
With filter pump, ladder, tarpaulin, groundsheet
Intex filter pump: 3785 liters / hour
Diameter: 457 cm, height: 122 cm
Filter pump: 3785 liters / hour
The Quick Up Pools are often sold as a set. They are then called Intex Easy Set and the name says it all! In no time at all you can create an oasis of refreshment for your garden or terrace. The pools are available in different diameters and wall heights (from 183x51cm - 549x122cm).
The structure of the Quick Up Pool is very simple: just inflate the upper ring of the pool, place it on a flat surface that is as stone-free as possible (don't forget the tarpaulin underneath) and then fill in the water. The side walls are stabilized by the water poured in, so you can soon plunge into the waters of your new Intex garden pool.
The scope of delivery of this Intex Easy Set actually includes everything you need to operate your pool immediately.
The supplied cartridge filters filter the water excellently and so you can always find crystal clear water in your Intex pool. Most of the set offers also include a floor insulation mat and a tarpaulin. Therefore, always read the product description carefully so that you do not experience a blue miracle and have to explain to your sad-looking child that it is not allowed to jump into the pool right away. The Easy Sets cost from 25 euros (183x51cm) to 464,73 euros (549x122cm).
# 2 intex Graphite Panel Pool reviews & experiences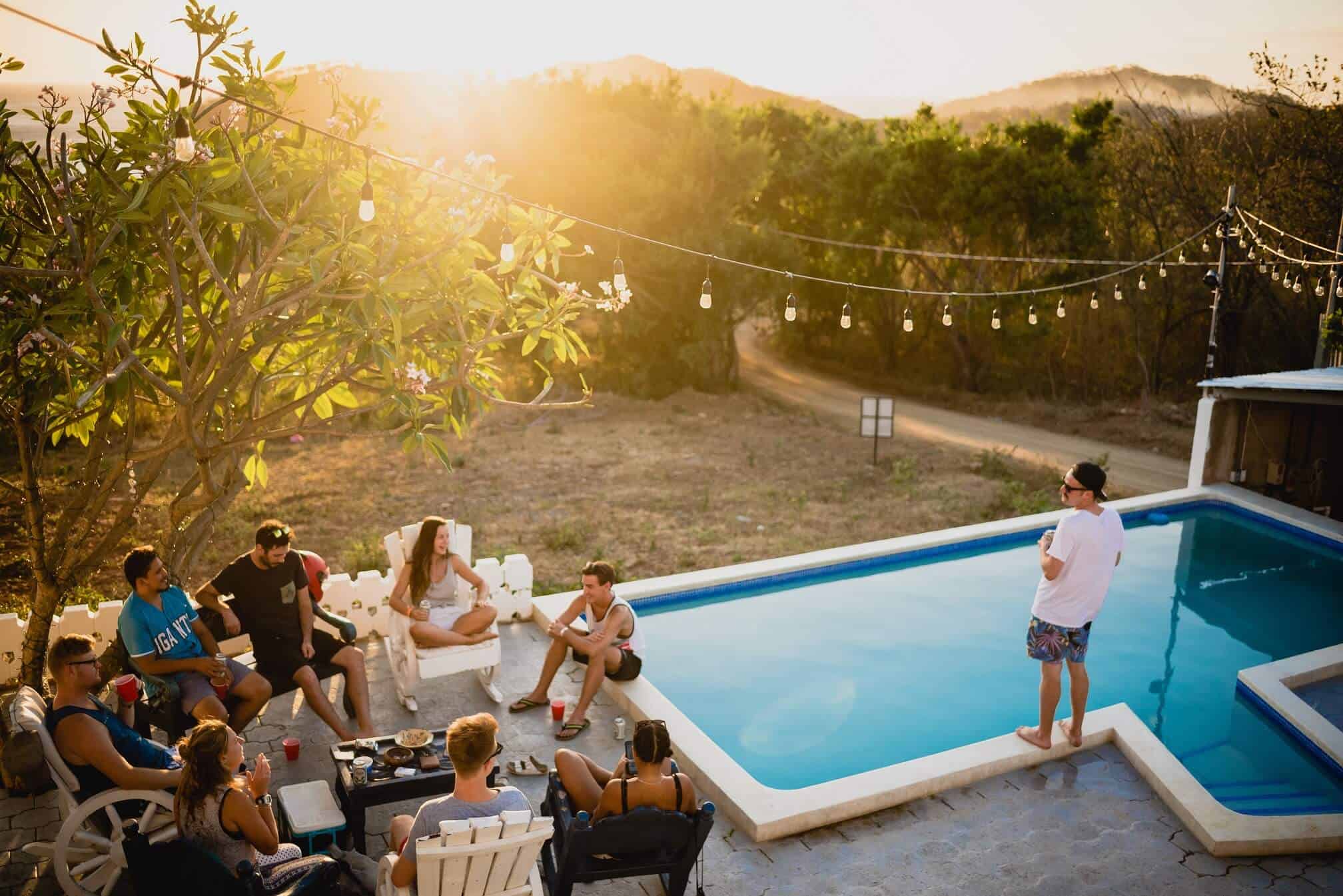 Frame pools, also known as tubular steel frame pools, are the "big brothers" of the Quick Up Pools. They are always used when the pool is regularly and heavily used over the summer. The construction of these models is child's play. Thanks to a very well thought-out network system, the individual rods are simply plugged into one another and hold together securely.
Then pull the waterproof pool liner over it and it could mean: water on! Intex frame pools are also very often available as a complete set. The scope of delivery then includes a powerful filter pump, an entry and exit ladder, a tarpaulin and an insulating floor mat. Similar to the Quick Up Pools, there are also different models for the Frame Pools. The round frame pool sets start with a diameter of 305cm and a wall height of 76cm (75, - Euro) and end with the dimensions 732x132cm (790, - Euro).
The angular frame pools by Intex have dimensions from 220x150x60cm (Family Pool) for 99, - Euro to 975x488x132cm (Ultra Quadra Pool).
Family pools immediately catch the eye with their bright blue pool liner in every garden. They harmonize in every garden and give it a summery freshness. They are available in round, square and also oval and they are characterized by their easy handling, robustness and stability.
With a family class pool, your family will be able to enjoy many unforgettable bathing moments. Yes, Intex is also represented in the premium sector with many frame pool models. In an unobtrusive white, they give every garden a touch of modern life and thus give it a special touch. As usual with Intex, they are quick and easy to assemble and shine with their robustness, stability and comfortable handling.
The aesthetically very attractive Intex Wood-Grain Frame Pools clearly belong to the premium class of garden pools. The special thing about these frame pools is without a doubt their wood-look cladding. So it fits naturally into your garden and almost merges with the landscape. Its frame is made entirely of plastic and therefore guarantees extreme stability and enormous strength. Sand filter, cover and groundsheet are included in the scope of delivery.
They are available in different sizes and heights, from approx. 542 to 1110 euros. The Intex Graphite Panel Frame Pools are also visually very attractive. Here tradition meets modernity and the pool exudes an elegant cool and visually enhances every garden. The noble-looking casing made of graphite-gray panels in the style of natural wood is not only an eye-catcher, it also gives the pool its stability and robustness.
The Graphite Panel Frame Pool from Intex is available in the size 478x124cm and is characterized by a wide range of accessories. It is offered in stores at different prices (899 to 1053 euros), but it is worth visiting the intex pool shop. Here, returns are often offered at a particularly low price. So you can currently buy a returned Graphite Panel Frame Pool in a set at a really incredible price of 599 euros.
What do you get here in the set? Well, first of all, a really powerful one Sand filter (with integrated timer), a suitable cover, a protective floor mat and a suitable ladder for easy entry and exit of the pool. That was the large product group of frame pools from Intex. But, not only can they build pools - they can even build very powerful indoor and outdoor hot tubs. We are now looking at these together.
# 3 Intex hot tubs
Intex always places great emphasis on the ease of use and the user-friendliness of its products. This can also be done with the classy-looking whirlpools for indoor and outdoor use. They can be assembled and dismantled by anyone without special knowledge or special tools.
Simply look for a suitable surface, even and without stones, spread out the bottom of the jacuzzi and let the supplied spa pump inflate the pool completely. Then fill the pool, turn on the heating and wait until the water has reached its comfortable temperature. Now you can dive in and let your worries and the stress of everyday life simply massage away.
You will soon love your own Intex hot tub and never have to miss it. Of course, there are also different models in this Intex product group. Do you want other brands? Then here's the Whirlpool inflatable test. Intex Jet + Bubble is the name of one of Intex's inflatable whirlpools. It has the dimensions 218x71cm and what is special about it Jacuzzi is that it is equipped with a salt water system.
This makes the use of chemicals superfluous. It is sufficient for up to 6 people and has 140 air nozzles.
The next whirlpool from Intex is characterized by its special shape. It is the 79 inch octagon with the dimensions 201x71cm. It is big enough that 4 people have enough space and it has 120 air nozzles. You can buy it in stores for around 900 euros.
Pool in the garden? You must know that!
Why wander far away when the good is so close? Something like this could be the sentence that prompts you to get a pool for your garden. With a chic pool from Intex, the tropical temperatures that have been around here in Germany for several summers can be wonderfully withstood.
Intex counts, according to its own statements, as the market leader for pools of all colors and the corresponding accessories. You want your next garden party to be something special, and you want people to talk about it years later? Then simply upgrade your garden with a garden pool from Intex!
The choice of models is almost inexhaustible and the right model is available for every garden and every budget. Build your own wellness oasis and enjoy the advantages that your own pool in the garden has to offer.
First of all, you need to consider whether your garden or terrace is large enough to accommodate the pool. You should also always remember that there should be a certain amount of free space around the pool so that you can get in and out comfortably and maybe even put down a towel or bathing shoes. You also have to worry about your lawn if you want to put the pool on it.
Various pool owners have reported broken lawns after dismantling their pool at the end of the season. It has also happened that the lawn under a pool has started to rot. You certainly don't want to experience this smell. It can therefore be an advantage if you cut out and remove the lawn.
The next consideration for you will be whether you also have a power connection near where the pool should be located? Since the pools have a circulation filter pump (and some models also a Heat pump), there must of course be a power connection nearby. Also, consider the time it will take to regularly maintain and clean the pool.
Do you have enough time to check the pH and chlorine values ​​at regular intervals, to clean and change the filter and to vacuum out the pool? This work is underestimated by many people and it is precisely these people who report about green water or a tilted pool. So never underestimate the work that is needed to keep your pool clean and well-maintained.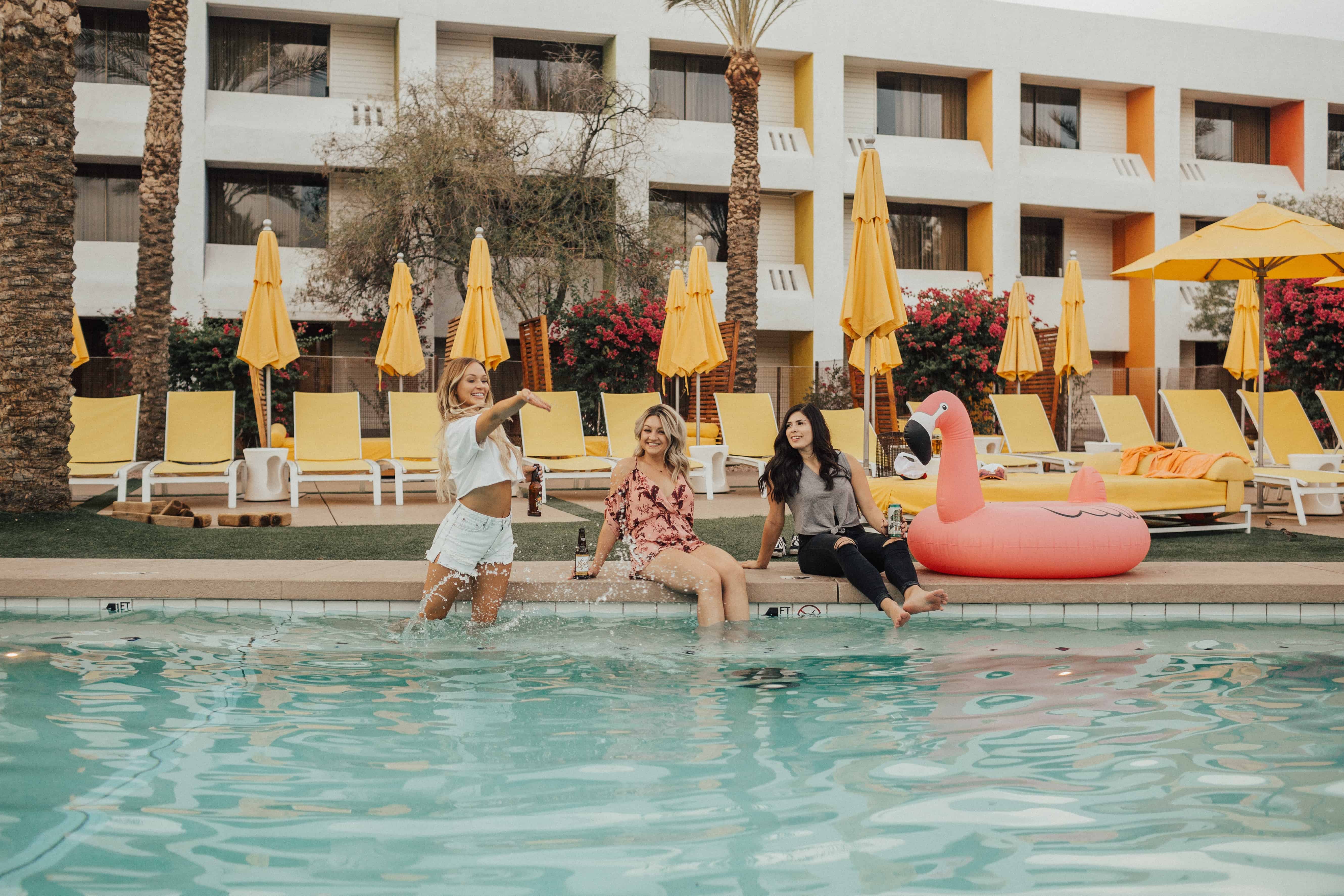 You also have to think about filling the pool. Do you have to use tap water? This could be very expensive if you think about the sometimes very high water and wastewater prices. Taking groundwater can be an alternative, but it is more difficult to keep clean in such a "small pool". The next question is: which model do you want to have in your garden? Steel frame pool, quick up pool, built-in pool or maybe a whirlpool? Here, the individual taste, the space that is available and of course the use decide. Will you use your pool regularly all summer? Then a steel frame pool is recommended, because it is more stable and robust than the Quick Up pools.
What does the perfect surface for your pool look like? We have already discussed the damaged lawn. What alternatives are there? There is the option of cutting out the lawn generously and then leveling the surface with sand. Then put a sturdy, thick tarpaulin on the sand and the pool can be placed on it.
Foam rubber sheets are also popular as a substrate. For years they have been awarded very good insulation properties. In various tests, however, it has been shown that under weight the insulation properties are not as very good as always assumed. On the other hand, the Styrodur boards with a thickness of approx. 60mm or more gave very good results. You can buy these in every hardware store.
Inflatable pool: cost
What are the costs if you choose one of the high-quality Intex pools for your garden? First of all, of course, the purchase price of the selected model (50-800 euros or more), a filter (cartridge filter from approx. 30 euros, sand filters from approx. 100 euros),
Cartridge for the filter (approx. 3 euros per week if you don't clean your filter) or a one-time filling with sand (15 euros approx), a skimmer has also proven to be very helpful for pool maintenance (approx. 25 euros), a water value test kit (approx. 20 euros), a pH reducer, chlorine and other chemicals (approx. 5 euros / 1,5kg) and not to forget a foil for the Underground (approx. 10 euros).
This is all Pool accessories, which you need and which there is no way around (unless you decide on a pool with salt water system, more on that later). Then there are of course other things that you can optionally add to your Intex pool. A tarpaulin is actually almost essential for an outdoor pool. It reliably protects the water from pollution by animals and plants and also ensures that the water does not lose temperature so quickly.
And if you already have the money for a cover film in your hand, then you better add a few euros and buy an insulating cover film right away. This stores the warmth of the water longer than a conventional one. For some time now there have even been solar tarpaulins. Take a look at the extensive range of accessories at your Intex dealer or in the Intex online shop for the right tarpaulin for your pool.
Another advantage of a cover is that children are more likely to be deterred from playing by and in the pool than when there is no foil on it. Another optional accessory is a ladder for easy and convenient entry and exit. Pay attention to a solid impression and to the rustproof properties of the material from which it is made.
Another aid that you can optionally purchase is a floor vacuum. Make sure that the connection matches that of your garden hose. In the extensive range of accessories from Intex, you are sure to find the right vacuum cleaner to make your work easier.
Pool for garden: garden pools in the test
Let's take a look at the models that Intex has in its wide range. Perhaps this will clarify any questions you have here and make your decision to opt for a pool from Intex easier. Of course, we cannot go into each model specifically here, that would clearly go beyond the scope! The first, probably also the best-known category at Intex are the Quick Up Pools.
Surely everyone has seen these pools in one or the other garden. And that's not surprising either, because these are without a doubt the box office hits of the manufacturer Intex. Quick Up Pools are characterized by the fact that they can be set up and taken down quickly: simply lay the pool out on a level, stone-free surface, inflate the upper ring and fill it with water. The pool gets its stability when it is filled.
While filling, make sure that you smooth out any wrinkles that may have formed on the floor during this phase. Once the pool is completely full, they will no longer succeed. The next product group are the frame pools. These are also called tubular steel pools.
Especially if you plan to use the pool all summer, you are well advised to choose a frame pool from Intex. In short, a frame pool consists of a tubular steel frame with a pool liner over it. As I said, that's the short version. Special models, for example with wooden cladding, can be found in the frame pools as well as the classic models.
The next category is for the very young bathers. The paddling pools are the children's quick up pools. With a shallow water depth, they offer the little ones enough fun and the opportunity to let off steam without any worries. However, you should never let your children bathe unsupervised in these relatively shallow pools.
However, if you would like to enjoy bathing fun as a family, then take a look at the colorful and cheerful Play or Swim Centers from Intex. Whether your little ones prefer to splash around in the world of knights or at Jurassic Park, there is something for every taste. The last group of pools for the garden that Intex produces are the wellness specialists, the whirlpools.
These inflatable, mobile versions turn every garden into a wellness oasis and stress-ridden ones will love their own jacuzzi in the garden! A whirlpool in the garden allows wellness whenever you feel like it. Now let's take a closer look at the models and explain the specifications of them.
Conclusion on Intex pool products
Here you have now a rough overview of the really large and extensive range of the pool manufacturer Intex. A pool from Intex gives every garden the touch of a refreshment and relaxation oasis, but at the same time it also promises games, sports and fun.
When you choose an Intex pool, you can be sure that you are buying a piece of honest quality. At the same time, you can be sure that you will always get the right accessories and spare parts you need. Decide on one of the many complete sets and benefit from the wide range of accessories that are offered here at low prices. Intex - this name is automatically associated with the words quality and user-friendliness.
The market leader did not receive this award for nothing and he remains faithful to this motto. Intex only uses the most robust, high-performance materials for its pools and then processes them into very high-quality and hard-wearing pools. Great importance is attached to simple and uncomplicated handling, and comfort and the feel-good factor are not neglected in the Intex pools. If pool, then Intex!
There is also a general test here: To the pool test. Hopefully the short report can make your purchase decision easier and you choose the undefeated market leader for pools of all types: Intex!
Decide for quality, an unmatched price-performance ratio, customer orientation, durable and robust products and the security that you will get all of this guaranteed. Intex pools get an overall rating of 4 out of 5 stars:
# 1 Our test winner pool for your perfect summer:
Intex Easy Set Pools 457x122 | 128168
Easy Set Pool, 457 x 122 cm, TÜV / GS
With filter pump, ladder, tarpaulin, groundsheet
Intex filter pump: 3785 liters / hour
Diameter: 457 cm, height: 122 cm
Filter pump: 3785 liters / hour
Other popular items: