# 1 test winner: best inflatable whirlpool: Miweba MSpa LED
A inflatable hot tub the extra class! It is not for nothing that it is the test winner in this series. Designed for up to 6 people, it has the following dimensions:
204cm outer diameter

160cm inner diameter

70cm basin height
Particularly easy to use, thanks to Delight Cable Control. The extensive range of accessories and the technical refinements round off this offer.
Technical details:
RGB LED lighting including remote control (RGB hose included)

Rhino Tech 6 PVC (particularly stable and robust)

PTC heater with 1500 watt power

maximum 1,2 to 2 ° heating per hour

Temperature range from 20 to 42 ° Celsius

Massage pump with 600 watts of power

138 air nozzles

Capacity 930 liter

Top class filter pump with filter change reminder function

Energy saving timer

Child safety / (lock)

extra-quiet

Plug and play technology-for everyone to understand

Price Amazon: 649,90 euros
# 2 Intex Bubble
A inflatable whirlpool, which is almost as good as our winning model. Intex has not been one of the big pool manufacturers for many years for nothing. The Intes Bubble is big enough to accommodate up to 4 people. Its dimensions:
216 cm width

165cm inner diameter

71cm basin height
Especially the integrated one Limescale protection system does the cleaning and maintenance of the Intex Bubble inflatable whirlpools a breeze, which is almost fun.
Technical details:
very quiet

Plug and Play technology

detailed assembly instructions are described step by step on the supplied DVD

maximum temperature reached after about 12 hours of heating

very pleasant bubbling effect through 140 integrated air nozzles

Temperature range between 20 to 40 ° Celsius

automatic heating system

Capacity 1098 liter

individually adjustable on the easily readable control field

lockable insulating cover (child safety)

Filter pump output around 1741 liters per hour

Price Amazon: 239 euros
# 3 Intex Pure Spa salt water
The Deluxe inflatable hot tub from Intex makes the hearts of those seeking relaxation beat faster, thanks to the contained Salt water sanitation system and the easily exchangeable S1 spa filter cartridge, cleaning and caring for the pool is a real pleasure. It is suitable for up to 4 people and has the following dimensions:
201 cm outside diameter

150cm inner diameter

71 cm basin height
Also this one inflatable hot tub has an integrated Limescale protection system, which makes the water incredibly pleasant on the skin and promises even more pleasure.
Technical details:
Capacity around 795 liters

automatic heating system

Octagon shape

Temperature range 20 to 40 ° Celsius

insulating bottom foil (included)

lockable insulating cover protects children and the temperature of the water in the inflatable whirlpool Pure Spa Jet & Bubble

easy to use intuitively

maximum heating reached in 4 to 5 hours after the water intake

120 air nozzles plus 4 jet nozzles

Surface made of laminated vinyl, the bottom and the side walls are made of 3-ply Fiber-Tech material (particularly robust and durable)

automatic heating system

Heating 2200 watts of power

Filter capacity around 1741 liters per hour

Power air bubble pump 800 watts

Jet pump 650 watts of power

Price Amazon: 741,90
# 4 Lay Z Spa Palm Springs
This made it to fourth place round inflatable hot tub - the Palm Springs by Lay Z Spa. This manufacturer is also one of the market leaders here in Germany. It is designed for up to 6 people and has the dimensions:
196cm outer diameter

146cm inner diameter

71cm basin height
on. The appearance of the inflatable hot tubs: it comes in a chic leather look outer skin and its beige color goes wonderfully in every garden or terrace.
Technical details:
Easy to set up and self-inflating

digital control field to be controlled intuitively

automatic heating system with start / stop function

Heating 1,5 to 2 ° per hour

maximum heating 40 ° Celsius

Pool walls made of durable Tri-Tech material

120 airjet nozzles

lockable insulating cover

Integrated high-performance spa pump (also serves to inflate the pool walls)

Price Amazon: 414,90 euros
# 5 Whirlpool MSpa (our price-performance winner)
In fifth place is the year-round inflatable pool from MSpa. The round one inflatable hot tub offers enough space for up to 6 people and has the dimensions:
185cm outer diameter

145cm inner diameter

68cm basin height
The special thing about this inflatable hot tub is, according to the manufacturer, that it can be operated outdoors all year round. To do this, the heating only needs to be permanently on when the outside temperature is between 4 ° Celsius and -10 ° Celsius. Damage to the pump, heater and material of the inflatable hot tubs be avoided.
Technical details:
optimal use of space thanks to angular shape

6-layer Rhino Tech for a long service life and special robustness

132 massage jets

PTC heating technology including timer

the central control element is the cable remote control, simple and simple; Integrated child protection

High-performance filter system with status display on the large LED display

Inflatable at the push of a button

Tool-free assembly, quick commissioning

insulating cover and protective floor mat

Heating 1500 watts of power

Massage jets 600 watts of power

German detailed assembly instructions

Price Amazon: 479 euros
Best inflatable whirlpool: Why the Miweba MSpa LED inflatable whirlpool is our test winner
Simply dive with friends - that's no problem in the spacious Test winner Aurora from MSpa. Comfortably designed for up to 6 people, it offers enough space so that everyone can relax extensively. Thanks to the rectangular shape, it also fits wonderfully in corners and so no space is wasted.
For a bargain:
The special highlight of this inflatable hot tubs is the included LED light, with the RGB hose already included. This can be used to create unique lighting effects, especially in the darker months of the year. That alone is worth first place in the ranking. But we didn't just look at the appearance when evaluating, but also at the "inner" values ​​of the inflatable hot tubs.
So it's not surprising that the MSpa Aurora came first because it is very easy to set up and operate, and it also scores with an extremely quiet operation. This guarantees that no neighbors will be disturbed by noises inflatable hot tub used outdoors.
A total of 138 dynamic air nozzles create some eddies in the pelvis and let tense muscles quickly loosen up again with the help of the warmth. This is generated by a high-performance PTC heater, which is regulated by pressing a button. But the test winner does not neglect hygiene either. It is guaranteed by an efficient filter system installed in the wall of the inflatable hot tubs is installed.
You are also welcome to watch the following video to see what it will look like in real life:
The Aurora inflatable whirlpool from MSpa convinces all along the line, but it really stands out from the crowd with its unbeatable price / performance ratio! Thus the Aurora Mspa whirlpool is our test winner and therefore the best inflatable whirlpool in our test.
Inflatable whirlpools in the test: We paid attention to:
After a long day of work on your own, inflatable hot tub relax on the terrace - what could be nicer? The muscles relax in the warm, bubbling water and the thoughts also come to rest, the body regenerates.
On the way to a personal, private oasis of calm and relaxation, however, there are a few things to consider so that the bathing experience also has the desired effect on your body. Here in our big one inflatable hot tub test we want to enlighten you and point out relevant things.
What is an inflatable hot tub?
They were known in earlier times whirlpools mostly just as fixed in the ground Installed, inflatable models were more exotic. However, this picture has changed a lot in recent years and today they are inflatable hot tubs It is hard to imagine a garden without it. Especially because of their low price and the space they save, they are a good that every citizen can indulge in.
View this post on Instagram
The models differ from one another, depending on the number of people allowed. There are pools that offer space for 4-6 people (the inflatable hot tubs) And whirlpools for only 2 people - the Jacuzzis.
Advantages of inflatable hot tubs
Extremely quick to assemble and dismantle:

the

inflatable hot tubs

are mostly supplied with a compressor or a pump that pushes the walls of the

whirlpools

inflates in seconds. Dismantling is also child's play: pull the plug, let the water run off (caution: do not flood the garden or the neighbour's apartment!), Vent, clean, dry and save space for the next season.

Maximum flexibility:

thanks to the use of both

Indoor and outdoor

granted a

inflatable hot tub

maximum freedom when it comes to determining your position. Will the

inflatable hot tub

used on a terrace or balcony, you should always consider the statics. A

inflatable hot tub

when filled, the bars put some weight on them.
You should also make sure that if the pool is operated outdoors, a power supply is in the immediate vicinity.
Promoting health:

the warm water in combination with the relaxing massage refreshes the body and mind alike. Just let your mind wander and relax! If there is still something you can do for your health, then it probably already has

Wellness character!

To do this, simply point the massage jets at the tense muscle groups and there is no need to go to the masseur!

No more expensive spa visits:

It's not a dream to come home after a hard day's work knowing that you are just a few steps from the city

private wellness oasis

is removed?

Upholstered floor:

unlike permanently installed whirlpools with a cold, rigid bottom, the

inflatable models

via a special padding or air filling, which gives you the feeling of walking and sitting on clouds. Pure comfort!

Space saving:

not only during operation are they

inflatable hot tubs

extremely space-saving, even when they are not in use there is a place under every bed. This is because the

inflatable hot tubs

after draining the water and the air can be folded up relatively small and, with most models, can be safely stowed in the storage bag supplied until the next use.

Favorable:

do you want one

permanently installed whirlpool

call their own, so you must at a cost of

several thousand euros

calculate. In addition, mostly

Earthworks

be necessary, which can damage a landscaped garden considerably.
These worries fall with you inflatable hot tub gone because most models are priced between 300 to 700 euros to get and Earthworks are totally unnecessary.
Disadvantages of inflatable hot tubs
Possible damage:

new models of the

inflatable hot tubs

mostly have an extremely hard-wearing outer skin. However, it cannot always be guaranteed that a sharp stone or the like will damage the material.
In order to be able to react quickly in this case, many whirlpool manufacturers already supply a repair kit.
Air pump power:

who is for one

inflatable hot tub

decides, he will know from the start that he has to make certain compromises. These are mostly the performance of the fountain pumps. As a rule, this is between 500 and 600 watts for the inflatable models. For comparison a pump one

permanently installed whirlpools:

from 1000 watts.

Not to be used outdoors in winter:

only our 5th place, the

MSpa Aurora,

should, according to the manufacturer, also in the

Winter outdoors

to be operated. You should only ensure that the heating is permanently switched on when the outside temperature is between 4 ° Celsius and -10 ° Celsius. You should only remove the water from this at a temperature below -10 ° Celsius

inflatable hot tub

drain.
Buying an inflatable hot tub: what to look out for!
Primarily, of course, there should be enough space for the preferred model. Also think of an area that must be used for entry and exit. In addition, many people like to put their towels on the edge of the Polish from.
Furthermore, the ground at this point should be as level as possible and relatively stone-free. Alternatively, set the inflatable hot tub but in your house - maybe you have an unused basement room that you use Spa can expand?
View this post on Instagram
When choosing the location, always make sure that there is a power connection (a socket) nearby. Of course, your new piece of jewelry needs enough power to operate, which is made available to it.
Manufacturer of inflatable hot tubs
Probably the most famous manufacturer of inflatable hot tubs are certainly in this country Bestway and Intex. The dominance of the market can be attributed to these two producers of inflatable hot tubs without question. So is the manufacturer Bestway commented at LIDL in the brand's range and pools Intex commented at ALDI found on the shelves.
But lately other manufacturers of inflatable hot tubs talk about yourself. Both qualitatively and technically, they can inflatable hot tubs certainly with the models of the market leaders Intex and Bestway keep up. You can clearly see this on our Test winner, the Miweba MSpa LED, detect. These manufacturers are: MSpa, AQUAPARX, G-Spa and Miweba.
Inflatable whirlpools with salt water function
An increasing number of people are allergic to chemical additives such as chlorine. Here it is then necessary to look for an alternative, because ultimately these people also want a clean one inflatable Whirlpool without germs.
The best inflatable hot tub with salt water function:
The solution to this problem has been around for several years Whirlpool Market: inflatable Whirlpools with salt water function. The addition of chlorine is completely avoided here, instead the water is kept clean with salt. These inflatable hot tubs are usually a bit more expensive to buy than conventional, chlorine-clarified pools, but this investment is really worthwhile for sensitive people.
Of course, it must be clear that you are not simply adding salt instead of chlorine in theirs inflatable hot tub can pour. That would probably damage the material and the pump permanently. On the other hand, you can inflatable whirlpool with salt water function keep it clean with chlorine and / or other chemicals. The high-quality material can withstand this without being damaged.
Even with the inflatable ones Whirlpools with salt water function similar criteria apply as for the conventional ones inflatable hot tubs, which you should consider before buying (size, shape, installation location, etc.).
Inflatable whirlpools with massage function
They used to be soothing whirlpools mostly only in special Wellness facilities, spa houses or large bathing areas to find. They have only become accessible to the general public in the last few years, when the inflatable hot tubs came on the market. Thanks to this innovation, from then on it was also possible for "average consumers" to relax and be pampered at home.
Inflatable hot tub with the best massage function:
Of course, every whirlpool "bubbles", but some models also have the so-called "Jet nozzles"which press the air into the bath water with unbelievable pressure. Most inflatable hot tubs WeiSen at least 100 of these super jets and so every body region can be massaged and loosened up with the jet nozzles.
But what happens in the cozy warmth of the inflatable hot tubs with our body? By constantly applying heat to the tense muscles, you can almost feel how the hardening is loosening and the muscles are becoming supple again. In addition, the buoyancy of the water relieves the joints and your own body suddenly feels as light as a feather. You could almost be in hers inflatable hot tub get the impression that you are floating on clouds - on warm clouds!
However, the warm, bubbly water can do even more for your body. So it also stimulates them circulation of the entire body and also the Metabolism is properly cranked. This in turn has positive effects on the Elasticity of connective tissue, blood vessels and skin.
Also for that mental health is a stay in one inflatable hot tub as a Fresh cell treatment. Especially if the whirlpool (like our test winner) has integrated LED lighting. Here, especially in the dark hours of the evening, very magical light effects can arise. But that is Balm for the soul!
Are inflatable hot tubs warm enough?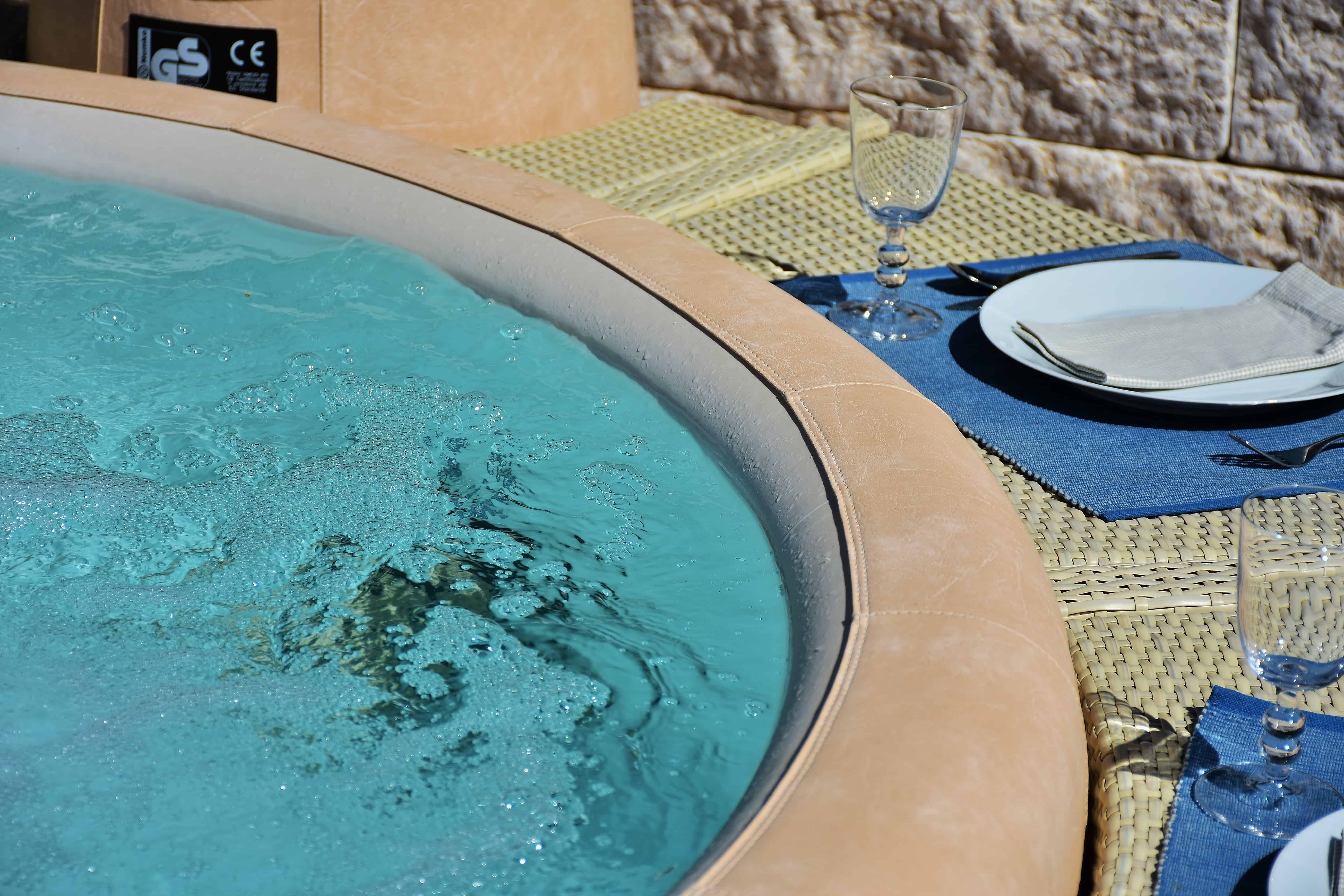 A big prejudice when it comes to inflatable hot tubs what is possible is that they could not keep the water inside it warm enough or not permanently. Is this prejudice true or does it belong in the realm of fairy tales? We now address this question!
It is a fact that a inflatable hot tub with a simple foam insulation loses around 12 ° Celsius of heat over a period of 6 hours. It does not matter whether it is a high-priced or a cheap one inflatable hot tub both models lose heat equally.
The most important factor in maintaining warmth in the inflatable hot tub are the side walls. Here you can assume that the more layers the outer shell of the hot tub has, the better it will keep the heat in the water. If you then immediately after using the inflatable hot tubs the cover again raise, then that's half the battle. With this simple move you ensure that the contact of water and air is prevented and that no more heat can escape to the environment.
The side walls of the inflatable hot tubs are known to be filled with air. Air is an excellent insulator (comparable to double-glazed window panes). In our test it turned out that a Outer wall about 25cm, filled with air, a adequate insulation represents for the side walls.
In addition, a insulating floor film also protect against undesirable cooling. However, you will achieve the greatest protection if you use the inflatable hot tub use it regularly, preferably daily. It usually has the same temperature and you can even visit yours spontaneously inflatable hot tubs decided - without long waiting until the right temperature is reached.
Are inflatable hot tubs noisy?
Of course one can inflatable hot tub cannot be operated without certain noises. The whirlpool makes noises in two different ways: on the one hand when the pump is running to filter the water and on the other hand when the jet nozzles are switched on.
The volume, which one inflatable hot tub are usually comparable to a vacuum cleaner or a hair dryer. Only the pump can still be used for one humming noise worry, but this should not affect the neighbors particularly.
However, if you have very petty neighbors, maybe you should in the evenings from 22 clock forego your wellness pleasure. The peace in the house should be their value!
How many people fit in a hot tub?
Opinions were divided here and there is an urgent need for action! Many people talk about the so-called "Occupancy lie" the manufacturer. In plain language:
"If a hot tub manufacturer states in its description that the pool is designed for 6 people, then you can assume that this means 4 adults and 2 children."
If you really have 6 people in the inflatable hot tub want to climb, then the disillusionment will follow, because you will feel like the fish in the can! You won't feel much of relaxation and wellbeing.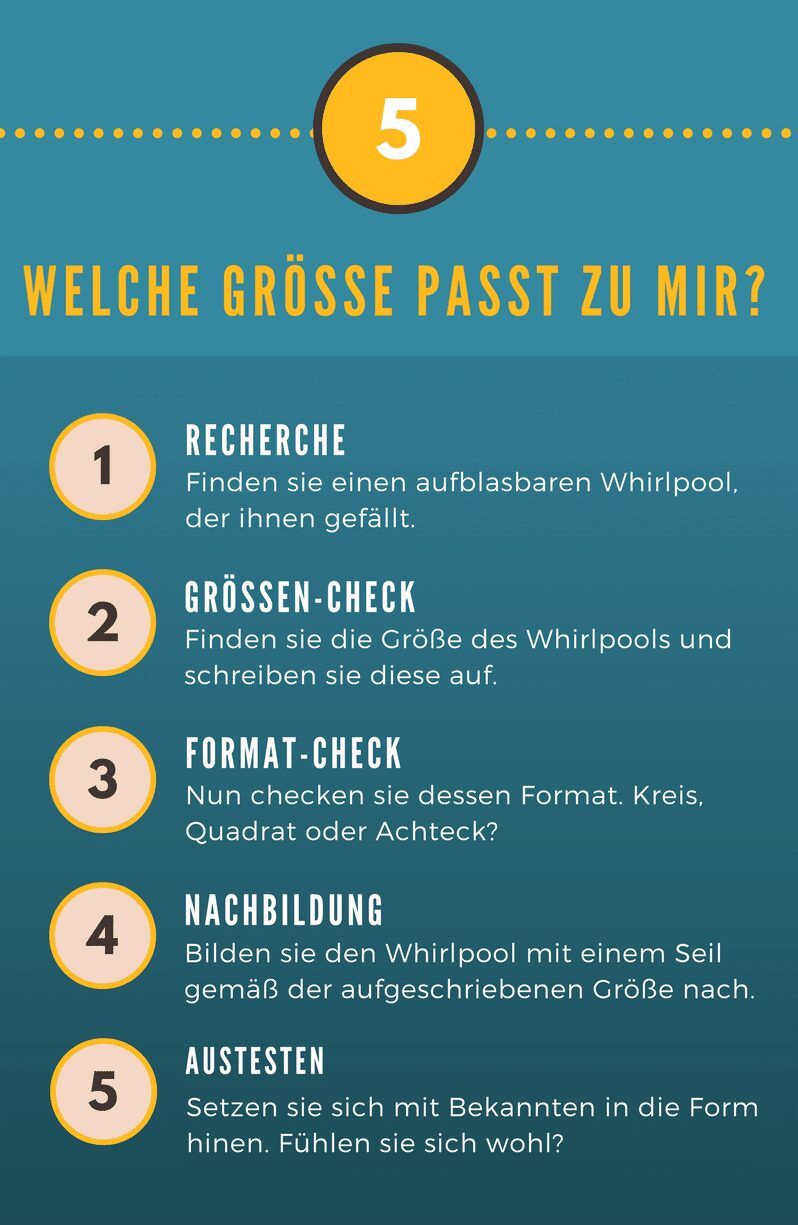 So be a bit critical when it comes to the information provided by the manufacturer and, for example, if you give 4 people, expect that only 2 adults can linger comfortably here.
It looks similar with the shape of the inflatable hot tubs out. You can assume that more people can sit comfortably in a round hot tub than in a square model. If you choose a diameter of 2 meters or more, you can easily indulge your pleasure in a group of four.
However, if you tend towards the angular models, make sure that it inflatable hot tub Has side lengths of at least 1,50 meters. Only then is it comfortable for all occupants and the legs can also be stretched out once.
Instructions for your whirlpool inflatable
Most of the sold these days inflatable hot tubs are usually so-called "Plug and Play" Models. That actually just means that they are very easy and simple to set up and operate. In individual cases, however, it is recommended that the Assembly instructions from the manufacturer read and follow these instructions.
Step 1: construction
Grab the inflatable hot tub carefully out of its packaging. Be careful there, because the Exterior walls should not be damaged if possible (otherwise you will have to use the repair kit immediately).
Then put the insulating floor mat on the area where the inflatable hot tub will have its place. Place the bottom of the inflatable hot tubs exactly on the floor mat and smooth the floor a little. Now you need to fill the outer shell with air.
As a rule, the manufacturers supply either a small compressor or a spa pump. With their help you can use the inflatable hot tub then inflate it lightly with air. Without any circulatory problems from blowing too much!
If the outer walls are now stable, you can start to let the water run in. Depending on the capacity of the inflatable hot tubsto take some time. Only fill the pool with pure, clear water, without additives or the like. Make sure that there are no coarse debris on the bottom of the inflatable hot tub.
Step 2: heating
Now you can start the heating and heat the water to the desired temperature. Alternatively, if you have the inflatable hot tub want to use it quickly, you can too already preheated water fill in.
Once the maximum fill level has been reached (observe the manufacturer's instructions), the previously installed filter pump can be put into operation. Now you only need to set your heating program or your favorite maximum temperature and the inflatable hot tub heats the water and clarifies it.
Step 3: clean
Of course that is Cleanliness and hygiene central in one inflatable hot tub. Especially when many people do Whirlpool use and maybe even smaller children with "on board" pollute the water very quickly and in the worst case can become dangerous Germs and bacteria form.
Therefore, always pay attention to the right amount of chlorine or decide on one straight away inflatable whirlpool with salt water function. This is very unspectacular in terms of cleaning and care and can really be recommended to everyone.
There is also the inflatable hot tubs also those that make you "Filter change alarm" exhibit. Nothing can go wrong here and if you always fish off loose particles (leaves, etc.) with a net, the water will not become cloudy and unsightly so quickly.
How to winterize your inflatable hot tub
If you follow the manufacturer's recommendations, you should inflatable hot tubs from a temperature of 4 to 5 ° Celsius can no longer be operated. Otherwise there is a risk that the Material brittle will and Risse gets. In addition, the low temperatures damage the electrical components of the inflatable hot tubs.
However, there is one inflatable hot tub, is MSpa Alpine (our 5th place), which can also be operated outdoors in winter. The manufacturer promises that the inflatable hot tub Can be used in winter as well as in summer if a few little things are considered. So the heating of the whirlpools from an outside temperature of 4 ° Celsius up to -10 ° Celsius permanently to be in operation. From an outside temperature of -10 ° Celsius should the inflatable hot tub however should not be used more.
Which power connection does a whirlpool need?
Most Whirlpool models can be operated with 220 V. However, if you want to operate the pump with the existing heater at the same time, a 400 V high-voltage connection is recommended. After all, you want to be able to use all functions at the same time, which can only be done with one strong power connection is possible. If you do not attach great importance to this, a power connection with 220 V is absolutely sufficient.
How much electricity does an inflatable hot tub cost?
A inflatable hot tub would of course like to be used regularly and the electricity costs should be as low as possible. You can do such a hot tub very well with one inflatable children's paddling pool to compare. Electricity costs of around 20 to 25 kWh can be expected here. In most cases, a kilowatt hour will cost you around 30 cents, which makes a total of between 6 and 8 euros. You should cover your hot tub with a tarp when you are not using it. The advantage here is that the water then cools less quickly. You will then have to heat the pool less the next day when you want to use it again.
What is the power consumption?
The use of the whirlpool naturally plays a decisive role here. Do you use your pool daily, several times a week or rather irregularly? As mentioned above, electricity costs between 6 and 8 euros per use. Would you like your Whirlpool If you use it twice a week, you would get around 2 to 48 euros per month. However, from experience we can say that the expected Electricity costs are lower.
How good are inflatable whirlpools compared to normal whirlpools?
Consumers often choose inflatable hot tubs, because they are easy to use and attractively priced. These not only look great, they also have a lot to offer that you can find at normal hot tubs often missed.
Advantages
good value for money

ease of use

fast setup

The location can be selected flexibly

thanks to the soft floor, a high level of comfort is required

save space
Disadvantages
sharp edges and pointed objects can damage the hot tub

the performance of the massage pump is lower in inflatable whirlpools than in normal whirlpools

If frosty weather conditions are imminent, the inflatable whirlpool must be dismantled as it is not winter-proof
Inflatable hot tub durability: how long does an inflatable hot tub last?
Inflatable whirlpools usually consist of several layers. During production, vinyl or PVC is used. This material is particularly robust and therefore an inflatable whirlpool promises a long service life. Most inflatable hot tubs can be inflated to the desired size using an automatic inflation function. The big advantage here is that it only takes a few minutes to set up. However, it is important that the ground is cleared of sharp stones so that the inflatable hot tub cannot be damaged. Usually you can assume that you will attend one of these Whirlpool you will enjoy your life for many years.
Whirlpool inflatable test Stiftung Warentest 2021:
The Stiftung Warentest took a closer look at some inflatable hot tubs. Here the functionality, the equipment, the handling, but also the design were put through their paces. The inflatable hot tubs Thanks to their functionality and the associated price-performance ratio, they have repeatedly caused a stir in a positive sense. These whirlpools will also be among the most popular models in 2021, as they can be set up flexibly and the user will be surprised with many highlights.
How often do I have to change the water in the hot tub?
A great benefit is that you have the water in your inflatable hot tub do not have to change constantly. This saves you a lot of work and you can simply enjoy yourself after work or whenever you feel like it. It is important that you pay a little attention to the maintenance of your hot tub. Depending on how often you use your inflatable hot tub, it is sufficient if you change the water between 2 and 10 times a year. Some hot tubs are self-cleaning, which is a great benefit, but you can also purchase special products to help with cleaning. So must you Don't keep changing the water in your pool.
How quickly does a hot tub cool down?
Is the inflatable hot tub once it is properly heated, the temperature is usually around 36 degrees, so you are comfortably warm in this one. Depending on the model, you can keep the temperature in a hot tub constant. As a rule, there is a heater that maintains the desired temperature that you have set in advance. If this temperature drops, the heating will automatically switch on again until the desired temperature is available again. You can of course do that heating switch off once the desired temperature has been reached, then cools the water in about 2 hours. If you leave the whirlpool and cover it, the temperature will remain available for a longer period of time.
How do I keep the water in the hot tub clean?
For inflatable hot tubs there are so-called cartridge filters and sand filters to buy. With a sand filter, the water runs through quartz sand, is cleaned there and then runs back into the pool. Here it is important that you at least Change the quartz sand once a year. The cartridge filters have paper filters in which the dirt collects. The existing Paper filter need to be changed regularly so that they can catch the dirt. It is also important that you do the at least three times a year Filter decalcify yourself, as the limescale always tends to set in this. How long it takes to clean your whirlpool depends primarily on the performance of the pump.
How often do I have to add chlorine tablets to the hot tub?
You should get your inflatable hot tub always chlorinate after use. In such a case, chlorine tablets are particularly easy to dose. A Chlorine tablet should be absolutely sufficient here. However, it also depends on how many people used the pool before cleaning. If you do not use the pool for a few days, you can easily use 2 chlorine tablets. You can also, if not as standard with your Whirlpool available, use a so-called metering float. In this you can give the chlorine tablet. You simply put the filled float in the pool. The tablet will gradually dissolve. This way you get a continuous chlorination of your water.
The best Intex inflatable hot tub:
The Intex PureSpa Jet & Bubble Deluxe - Ø 201 x 71 cm - 4 people - Black Octagon is a very good model. It is particularly easy to use and the automatic heating system ensures continuous heat. Thanks to the integrated limescale protection system and salt water system, some of the cleaning work is relieved of you. Another highlight is the amount of water of 795 liters that this inflatable hot tub summarizes. Thanks to the 120 air nozzles and the four jet nozzles, you can have a wonderful massage in this inflatable whirlpool. Pure relaxation. The pool offers enough Accommodate up to 4 people and not only looks appealing, but is also very durable. It is compared to others inflatable pools priced rather at the upper limit, but is worth every euro.
The best Bestway inflatable whirlpool: Our experience & test winner
TBC
The best Miweba Mspa inflatable whirlpool: Our experience & test winner
The Miweba MSpa LED inflatable hot tub is perfect for up to 6 people. It has an acceptable height and is perfect for anyone who wants to relax. The built-in control system is a great addition and whisper-quiet. You can reach the desired temperature within a very short time and using the wired remote control is child's play. A particularly big advantage is that this one inflatable hot tub hardly loses air, so you don't have to add fresh air to the pool every day.
The best square inflatable whirlpool: our experiences & test winners
The inflatable whirlpool MSpa Tekapo for 6 people SPA has a lot to offer. At first glance you will certainly notice the excellent price-performance ratio, but this whirlpool has a few more advantages to offer. It offers enough space for up to 6 people and thanks to its angular shape you can really relax in this pool. The existing LED full-function remote control is waterproof and therefore all functions can be optimally carried out from the pool. The inflatable hot tub has a total output of 2100 watts, the heater 1500 watts and the massage jets 600 watts. If the filter has to be changed, an alarm sounds so that you always know when it needs to be changed. This whirlpool is not only an eye-catcher on every terrace or garden, no, it can also be used all year round.
The best round hot tub inflatable:
The Bestway Lay-Z-Spa whirlpool "Palm Springs" is suitable for 4-6 people and by no means boring. It is beige in color and looks extremely noble. This round inflatable hot tub consists of one three-layer Tritech material, it is extremely robust and durable. Thanks to the existing inflatable cover, which is provided with clip closures and an additional insulating layer, you can protect your pool from dirt and grime. A metering float is also included and a heat-insulating floor mat is also available. You can really enjoy yourself in this hot tub with the whole family or friends. The special highlights include an existing filter cartridge and a pressure gauge. This inflatable hot tub is equipped with plenty of accessories. The price-performance ratio is also very attractive.
The best inflatable hot tub for 4 people:
The Intex PureSpa Jet & Bubble Deluxe is one of the best inflatable whirlpools. He offers enough Accommodate up to 4 people and is also an absolute design classic. If you like it a bit luxurious, this pool is the best choice. In terms of price, it is certainly a bit more on the upper limit, but is worth every euro. This inflatable hot tub not only has an automatic heating system and 120 air nozzles, as well as four jet nozzles, but also has an integrated limescale protection system and an integrated salt water system. The amount of water is 795 liters. Simply relax with your loved ones after work and enjoy the wonderfully warm temperatures. This is possible in this hot tub.
The best inflatable hot tub for 6 people:
The inflatable hot tub MSpa Tekapo Charmed. It can be inflated easily at the push of a button without having to lend a hand. The existing heating can be set using a timer and it also has this Pool for 6 people over 132 massage jets. With this inflatable whirlpool, the feeling of wellbeing will not be long in coming. A big advantage of this pool is that you can use it all year round. He has the popular Anti-frost technologythat can be used in winter. The disinfection generator, which makes cleaning a lot easier for you, is also particularly impressive. A automatic filter system is also available, as well as an antibacterial pool fabric. Thanks to the ingenious material, this one is inflatable hot tub very robust and at the same time durable. The remote control, which is waterproof, rounds off the overall package perfectly.
The best edged inflatable hot tub:
A border on one inflatable hot tub is certainly not bad, because it offers numerous advantages. A low border is particularly useful when children want to go into the pool. A Border however, it can also serve as a seat. In summer, a border is also particularly suitable if you want to sunbathe, because this can be done without any problems. There are frames made of wood, but also those that are just like the Whirlpool are inflatable. Your taste is primarily decisive here.
Inflatable hot tub winterproof test: what is the best hot tub in winter?
Most inflatable hot tubs cannot withstand cold temperatures and should be dismantled in winter. However, there are also some models that you can use all year round, such as the MSpa Tekapo. On a Cover for your hot tub you shouldn't miss out on it in summer or winter. Numerous manufacturers offer these as an inclusive accessory, with some you have to purchase the cover additionally. You can use such the water if you have the pool just don't use it to keep warm longer. In addition, you keep dirt and grime out of your pool and do not have to clean it as often.
Where can I place an inflatable hot tub?
A inflatable hot tub is a real highlight, not only the numerous different functions inspire users again and again, no, such a pool can also be set up in numerous places. Since it is available in different sizes, you can set it up exactly where you want to use an inflatable whirlpool. Inflatable hot tubs don't just look good on the terrace or in the garden, but also on the balcony. They can be set up flexibly and removed again if necessary. A good alternative to everyone else whirlpools.
Large inflatable whirlpool: How big should the optimal inflatable whirlpool be?
The most hot tubs are for four to six people fitted. The most important thing here is how many people want to use your hot tub. You should know that if the manufacturer states 6 people, then in most cases it is a pool that was built for four adults and two children. In addition, you should not calculate the space required too closely. It can't hurt if you have some more freedom in your inflatable hot tub to be able to enjoy. Since there are angular, round and also those with a border, you will always find the right inflatable whirlpool for your needs.
How good are inflatable whirlpools from Aldi, Lidl, Otto, Obi, Hornbach, Toom or Bauhaus?
The Bauhaus, for example, offers inflatable hot tubs of the Intex brand. The whirlpools Intex Pure Spa and Octagon Bubble come from the Bauhaus and are designed for up to 6 people. At Obi, however, you will find it Lay-Z-Spa Palm Springswhich is suitable for 4 to 4 people. But Otto, Hornbach and Toom also have attractive inflatable whirlpools that can score with their price-performance ratio. At Aldi and Lidl The inflatable whirlpools are not part of the standard range, but if an action is taking place, the models on offer do not have to hide.
Should you buy an inflatable hot tub online (Amazon) or offline?
Inflatable hot tubs can be bought online or in a store. Nowadays, many people prefer to buy online as it has numerous advantages that should not be lost sight of. Just Amazon is known for its high quality goods that are offered at a low price. who buys an inflatable hot tub online, which can save a few euros, as the providers can often offer these pools more cheaply than a retail store. There are no sales rooms here, skilled workers or salespeople do not have to be paid and the providers can buy inflatable whirlpools in large quantities. All advantages with which you for one good jacuzzi can really save.
Our inflatable hot tub experiences
We can say from experience that inflatable hot tubs are a real alternative. However, we advise that if you are using this in Your garden want to set up a power supply is available in the immediate vicinity. If you want to really relax, you should make sure there is enough space and you should also be able to regulate the temperature independently. Once the desired temperature has been set and you no longer have to worry about the technology, these inflatable whirlpools are certainly the most popular models.
Our inflatable hot tubs can score in different ways. If your focus is on luxury, then you certainly need to come up with more Acquisition costs calculate, but it's always worth it. But even the inflatable whirlpools, which are much cheaper to buy, do not have to hide, because they also keep what the manufacturer promises.
Summary
A inflatable hot tub transforms your garden, terrace or even a dreary basement into a real one in no time at all Spa. Here you can let your mind wander and relax as much as you like.
Our Test winner, the Miweba MSpa is your ideal companion here, as it will transport you into a world of magical lighting effects with its LED lighting. Lean back comfortably and enjoy a relaxing massage from the 138 jet nozzles.
# 1 test winner: best inflatable whirlpool: Miweba MSpa LED
You are also welcome to invite friends and family to relax, you new ones Miweba MSpa also offers enough space for large groups. In addition, it is extremely quiet, which does not stand in the way of a lively conversation.
"The Miweba MSPa is really a top class inflatable whirlpool and is therefore worth every penny of its price. For this we give first place and a clear purchase recommendation! "
Our place 2, the Intex Bubble, is recommended, however, for the small budget. He is a real one Price / performance miracle and not wrongly landed on the podium. It is almost in no way inferior to the winner and, thanks to its low purchase price, can be recommended without hesitation.
# 2 Intex Bubble
Other popular items: